Statistics on Coronavirus 19 (COVID-19) in Ottawa
Last revised on June 2, 2020.
COVID-19 Epidemiology Update
Ottawa Public Health (OPH) is transitioning to a new case management and reporting system. This transition will position OPH to better manage COVID-19 case volumes, facilitate remote work options for the case management team, and continue to uphold provincial reporting obligations. To support the transition, OPH is currently conducting quality assurance to validate the data in the new system. In the interim, a condensed report will be posted until the transition is complete. The report includes the most current information available from the Ottawa Public Health COVID-19 Ottawa Database (The COD) and the integrated Public Health Information System (iPHIS) as of 2:00 p.m. on June 1, 2020.
Both The COD and iPHIS are dynamic disease reporting systems that allow for continuous updates of case information. These data are a snapshot in time, reflect the most accurate information that OPH has at the time of reporting, and the numbers may differ from other sources.
Summary
1,969 laboratory-confirmed cases, including 248 deaths, have been reported in Ottawa.
This includes 7 new cases and 4 new deaths since the previous report.
39 Ottawa residents with COVID-19 are currently hospitalized.
There are 18 ongoing outbreaks in institutions.
A detailed summary for each Long-Term Care Home in Ontario is available on the Status of cases in Ontario webpage, however information is not reported for retirement homes or other institutions at this time.
Ottawa COVID-19 Dashboard (Pilot)
Ottawa Public Health has created the Ottawa COVID-19 Dashboard to provide up to date information on core indicators for local monitoring and informing re-opening decisions. These indicators are grounded in the provincial Framework for Reopening our Province.
The Ottawa COVID-19 Dashboard includes four sections: (1) Virus Spread and Containment; (2) Health Care System Capacity; (3) Public Health; and (4) Testing and Tracking.
The Virus Spread and Containment section displays information on COVID-19 cases, outbreaks in institutions, and community acquired COVID-19 cases in Ottawa. The Health Care System Capacity section displays information on COVID-19 cases and available bed capacity in Ottawa hospitals. The Public Health section displays the percentage of cases reached and contacts investigated within 24 hours as well as the average number of contacts per infected case. Polling on health behaviours will commence shortly and information will be provided on hand washing, staying home when sick, physical distancing and mask use. The Testing and Tracking section displays the number of Ottawa residents tested per day as well as the percentage of tests which are positive cases in the community and in long-term care homes and retirement homes. This section also displays the average test turn-around time.
This Dashboard is in a pilot phase and subject to further improvements and additions.
Mapping of Confirmed COVID-19 in Ottawa
COVID-19 is present in every single community within Ottawa. The map below provides a snapshot of COVID-19 across Ottawa, based on Ward geography. Please keep in mind that wards are administrative boundaries. They do not reflect the natural ebb and flow of Ottawa residents within the municipality nor the communities in which they live, work, play and raise their families.
This map cannot be used to identify "COVID-19 hot spots" in Ottawa. Areas with lower or higher rates are not more or less "safe" from COVID-19 transmission. This map is not intended to assist with service delivery planning, recovery efforts or requests for additional services at a neighbourhood level. OPH continues to work with the health care sector and community partners to ensure we support the needs of at-risk populations. OPH is sharing this information in the interest of transparency.
Variables that may be driving the observed rates of COVID-19 in Ottawa Wards:
Age: In Ottawa, as well as many other communities affected by COVID-19, individuals over the ages of 60 years are more likely to develop a serious infection after contracting the virus and are a priority group for testing. Thus, reported rates of confirmed COVID-19, may be higher in communities with a larger percentage of seniors.

Rurality: To account for differences in the size of urban and rural populations, rates (i.e. the number of COVID-19 cases per 100 000 population) are provided. Rates in rural wards will be more sensitive to changes in the number residents with confirmed COVID-19, as they have smaller populations. Rural areas tend to have lower population density that facilitates physical distancing.

Testing: Testing is essential for monitoring COVID-19 in our community. Provincial testing criteria have varied throughout the response and been limited to priority groups when laboratory capacity was more limited. Only a small fraction of all the persons who were infected with the COVID-19 virus were tested and the number of reported confirmed community cases underestimates the actual number of infections. Information on overall infection rates in Canada will not be available until large studies on COVID-19 antibody presence in blood serum are conducted. Based on available information, the actual number of infections may lie from 5 to more than 30 times the reported number of confirmed cases.

Social determinants of health: The social determinants of health, such as income and ethnicity, can contribute to differences in disease prevalence and health behaviours. According to a recent ICES report, Ontarians who tested positive for COVID-19 were more likely to live in lower-income neighbourhoods or neighbourhoods with a higher percentage of visible minorities and recent immigrants.
The map below is based on the place of residence of Ottawans with confirmed COVID-19 and does not reflect where the disease was contracted. Exposure to COVID-19 can occur anywhere people congregate, such as workplaces or essential services open to the public. The best way to limit your exposure to COVID-19 is to practice physical distancing, limiting your exposure to your immediate family, and washing your hands.
Map Data Notes:
Data extracted by Ottawa Public Health at 2pm from the COVID-19 Ottawa Database (The COD) on May 19th, 2020. The COD is a dynamic disease reporting system that allow for continuous updates of case information. These data are a snapshot in time, reflect the most accurate information that OPH has at the time of reporting, and the numbers may differ from other sources.

Cases are assigned to Ward geography based on their postal code and Statistics' Canada's enhanced postal code conversion file (PCCF+) released in January 2020. Most postal codes have multiple geographic coordinates linked to them. Thus, when available, postal codes were attributed to XY coordinates based on the Single Link Identifier provided by Statistics' Canada's PCCF+. Otherwise, postal codes that fall within the municipal boundaries but whose SLI doesn't, were attributed to the first XY coordinates within Ottawa listed in the PCCF+. For this reason, results for rural areas should be interpreted with caution as attribution to XY coordinates is less likely to be based on an SLI and rural postal codes typically encompass a much greater surface area than urban postal codes (i.e. greater variability in geographic attribution, less precision in geographic attribution).

Population estimates are based on the 2016 Census.
The data table for this map is available for download on Open Ottawa
Projecting COVID-19 Infections and Hospitalizations
Many coronavirus infections are mild or cause no symptoms. Because of this, the number of diagnosed cases of COVID-19 in Ottawa represents only a small fraction of all the people who are infected (Figure 1). Diagnosed cases are often referred to as the "tip of the iceberg," which means that for each case that is diagnosed, there are likely many individuals who are infected and unknowingly transmitting the infection to others.
Public health interventions aim to reduce transmission from individuals with known and unknown infection to other individuals.
Figure 1. Confirmed COVID-19 cases as a subset of all COVID-19 infections.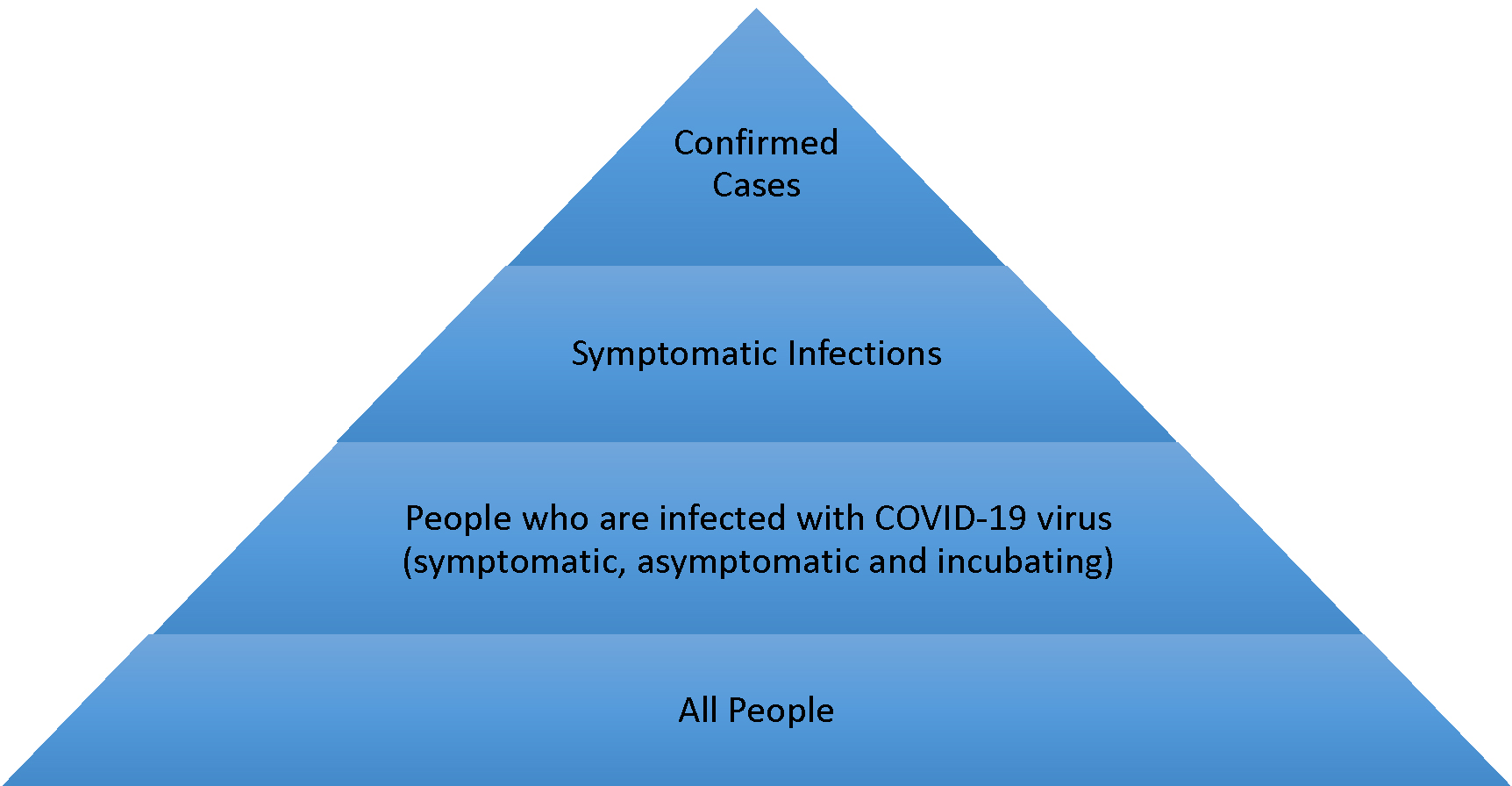 To predict the effect of different public health interventions, and to plan for how many people with COVID-19 will need care, we use models to understand how COVID-19 might spread in a population. Models take into account what we are seeing, in terms of the number of confirmed cases, and what we have learned from other countries about the transmission of the virus that causes COVID-19.
These models produce epidemiologic "curves," which show the number of people infected over time with different interventions, such as physical distancing. We evaluate which interventions will best "flatten the curve" and decrease the number of infections occurring within a period of time. This can assist the broader health care system with overall planning in areas like hospital admissions and intensive care unit beds. Public health interventions, such as physical distancing, can be very influential in achieving the goal of "flattening" the curve.

Ottawa Public Health is collaborating with experts at The Ottawa Hospital, University of Toronto and University of Guelph, and regional health partners, to model COVID-19 in Ottawa.
For acute care projections, OPH is collaborating with Dr. Doug Manuel and colleagues at The Ottawa Hospital on a model that is more agile to changes in local data, available at:https://613covid.ca/
Learn more about the Novel Coronavirus COVID-19 and the current situation in Ottawa
Perceptions and practices in Ottawa during the COVID 19 response. Results of a population survey March 26 to April 2, 2020
Key messages
Most people in Ottawa believe the pandemic is a serious issue (94%) and that governments in Canada are taking the necessary steps to contain COVID-19 (93%).
The priority for 40% of people in Ottawa is to do their part to prevent COVID-19 from spreading to others. Another 39% of people are concerned that others they know will get sick.
84% of people have changed their social behaviour in response to COVID-19 by only socializing using remote connections such as communication online or telephone (50%) or using remote connections and socializing outdoors on walks or in the yard (34%). Only 5% of people in Ottawa report socializing in their homes or the homes of friends and family.
Over half of people in Ottawa (57%) are worried about the safety of people they know with frail health. A third of people in Ottawa are worried about physical and mental health of themselves or those in their households (35% and 32%, respectively).
Compared with the total population, Ottawans who identify as living with a disability are two to three times as likely to identify difficulty in all areas of preparing for when they or someone in their household may become ill as those not living with a disability. Over half of people living with a disability are worried about physical and mental health (50% and 52%, respectively).
Over half (53%) of people in Ottawa expect that the current measures to slow the spread of COVID-19 will be in place for two to three months.
Perceptions and practices in Ottawa during the COVID 19 response. Results of a population survey March 26 to April 2, 2020 [PDF 640k]
Previous Reports
Read previous reports published
Receive Email Updates...