Be COVID Wise
Ottawa Public Health (OPH) encourages you to go about your daily activities while protecting yourself and others. Please follow these recommended precautions and be COVID Wise to help keep COVID-19 under control.
W – Wear a mask or face covering where required, or when you cannot maintain a physical distance of two metres (six feet).
I – Isolate yourself from others when you are sick (and get tested promptly if you have COVID-like symptoms).
S – Stay two metres (six feet) apart from those outside your household.
E – Exercise proper hand hygiene; wash your hands regularly or use sanitizer especially before touching your face.
Our Choices and Actions Matter
Let's be COVID Wise and COVID Kind to reduce community transmission. Please see below for real world contact tracing examples.
Sports Cluster
This timeline for this infographic is between October 2 and October 20. Prior to October 10, in accordance with Stage 3 regulations from the province, sports team practices were permitted to have up to 50 people who were in the same league.
On October 10, Ottawa transitioned to Modified Stage 2 regulations from the province, which permit up to 10 people at a team practice indoors, in line with indoor gathering limits.
OPH has been working closely with sport organization partners in the community. The changes made by province regarding sports teams helped address some of these concerns. We must all continue to be COVIDWise when participating in organized team sports by wearing a mask, isolating from others when we are sick, staying 2m apart from those outside our households, and exercising proper hand hygiene.
Additional background
The index case was asymptomatic when they attended the Team A practice
Masks were not consistently worn during team practices
People carpooled to team practices with members from outside their householdswithout consistent mask use
Spectators/parents mingled outside team practices without consistent mask use or physical distancing
Coaches and players interacted with members from multiple teams
All exposure to COVID-19 shown in the graphic occurred in Ottawa
A presumptive case is an individual who is a close contact of someone who has COVID-19 and has COVID like symptoms but did not get tested
Cottage Party Cluster
Wedding Cluster
School Cluster
Where are we exposed?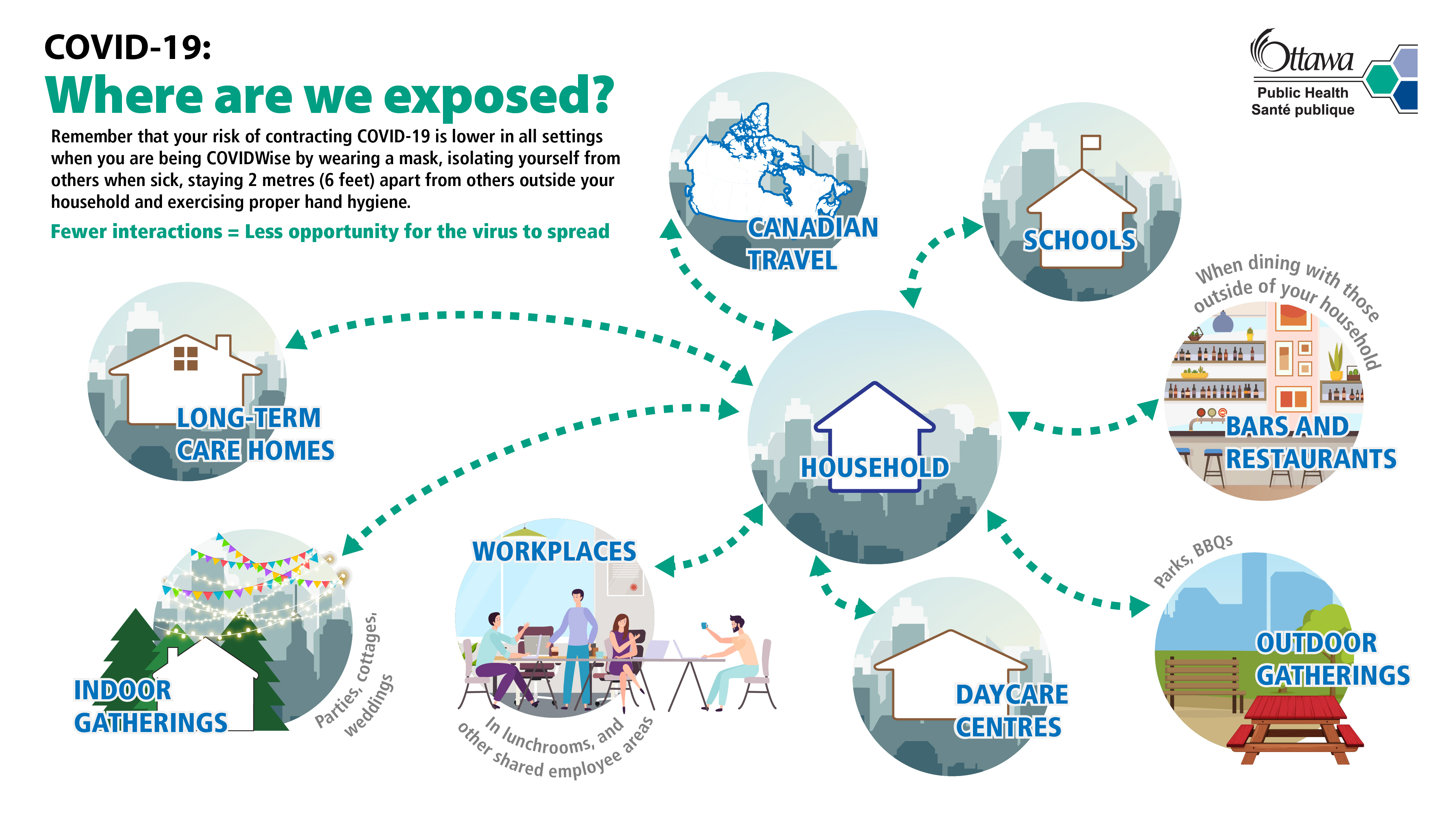 Take care of yourself
Take care of yourself. It's OK to NOT be OK. Help is available and we encourage you to reach out to the Distress Centre of Ottawa to connect with someone at 613-238-3311.
We are all in this together.

Be COVID Kind
Public spaces are reopening. Mandatory masks can help reduce transmission COVID-19. Remember to be COVID Kind as some people are medically exempt from wearing masks or are adjusting.
Resources
Receive Email Updates...